Lead Time
We are able to provide better lead times than most others selling similar products online. This is due to the fact that DesignTown USA is a direct manufacturer of the products we sell. We manufacturer direct and pass those saving on to our customers.
We will begin processing your order as soon as your order is placed and approved. Typical approval times range from 24-48 hours. Once your order is approved, your order will usually be packed and shipped within one business day unless customization is required.
Shipping Carriers We Use
DesignTown USA uses the top shipping carriers available. Depending on the size of your order, you'll receive your order from either FedEx, UPS or a freight carrier. If your order is over $500, we may require signature confirmation in order to deliver.
Cost of Shipping
If your order total is $1500 or above, you will receive free standard shipping. If your order is below $1500, the price of shipping will be calculated based on the total weight and shipping options available during checkout.
You may also pickup your order at your will-call area, located in Culver City, CA. If you choose to pickup your order at will-call, you will receive instructions via email on how to do so once your order is ready.
Shipping Transit Times
The duration of shipping depends on the shipping method selected. For online orders totaling $1500 or more, you will receive free standard shipping. The duration for free standard shipping is 5-7 days once shipped. If your order total is below $1500, the shipping duration will depend on your shipping location in relation to Culver City, CA and the shipping carrier you select. Shipping durations can range from 1-5 days using UPS Ground. The graphic below indicates the shipment duration time for UPS Ground based on shipment originating in Riverside, California.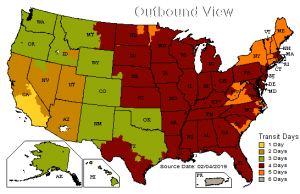 Subject to the Tariff/Terms and Conditions of Service, UPS guarantees on-schedule delivery of packages, shipped via UPS's services, that are listed as guaranteed, or will refund your transportation charges. Guaranteed Service is not available in all areas and does not apply to shipments containing a package with an Additional Handling or Large Package surcharge.
Scheduled business days and delivery schedules are revised occasionally due to changes in distribution and volume, especially during holiday periods. Service to some remote areas also may require additional delivery days. For current delivery schedules, service availability and information, and a description of the UPS service Guarantee, see the UPS Rate and Service Guide.
The most up-to-date transit time details will be available at www.ups.com/ctc at the time of shipping. Certain commodities and high value shipments may require additional transit time for customs clearance.
Damage of Shipment
If you receive any damaged items you must report them to us within 48 hours. Once you report a damage shipment, we will respond within one business day on how to proceed. In most cases, we will ask that you send us photos of the damaged good(s) so we can file a report with our shipping insurance carrier.
Once the damaged good(s) have been confirmed by our office, we will provide you with additional details related to whether the products need to be returned, whether new products will sent, or if a refund (partial or full) will be issued.
Restrictions
We currently only ship to the lower 48 continental states and do not ship to Alaska or Hawaii. Additionally, for all wholesale orders placed with DesignTown USA, there may be additional shipping and delivery terms and supersedes the terms herein.